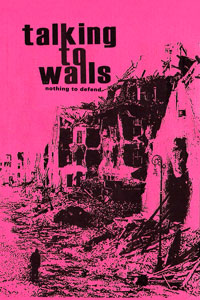 We are pleased to announce the release of "Nothing to Defend" - a collection of new songs from our upcoming album, compiled with singles we have released over the past couple of years, and every official music video we have put out up until this point. Includes a brand new one which, as of writing this, is still not available anywhere else.
"Nothing to Defend" is sort of like 2009's "The Megan EP." Our forthcoming full-length album, "Lost in the Sound," is almost completely mixed and, by putting out this collection, gets some songs out there - it has been too long between albums and we can't wait to share some of our songs with you. Plus, we are trying to raise the money to make the full album release possible.
Talking to Walls is also pleased to announce that a portion of the proceeds from "Nothing to Defend" will go to the Center for Sexual Assault Crisis Counciling and Education in Stamford, CT. We just played a benefit for the Center this weekend, which was really important to us, and we want to continue to support their efforts.
You can purchase "Nothing to Defend" on our online store here. Thanks to Matt Mullarkey for the cover art, and to Magdalena Abrego for playing with us this weekend.